Due to the COVID-19 pandemic, we will not hold an in-person ceremony this spring.
Welcome inductees, family, and friends to the 2021 Phi Beta Kappa Virtual Induction Ceremony! Phi Beta Kappa celebrates and advocates excellence in the liberal arts and sciences. Its campus chapters invite for induction the most outstanding arts and sciences students at America's leading colleges and universities.
Each spring, the committee meets to elect its new members, evaluating graduating students on their dedication to learning, willingness to challenge themselves, and their high cumulative GPA. We congratulate those students from Johns Hopkins that have proven they earn this distinction.
Greetings from the Dean of KSAS
Dr. Christopher S. Celenza
James B. Knapp Dean
Krieger School of Arts and Sciences
Hello. I so wish we could be together in person to honor this year's inductees to Phi Beta Kappa, the oldest and most prestigious of all honor societies. Special thanks to all the Phi Beta Kappa faculty and staff for arranging this virtual ceremony.
I could not be more proud of this year's inductees. You stand among the best and brightest liberal arts and sciences undergraduates in the country. Whether from the Krieger School of Arts and Sciences, the Whiting School of Engineering, the Bloomberg School of Public Health, the School of Advanced International Studies, or the School of Medicine, you have distinguished yourselves with both outstanding academic achievement and by demonstrating the lifelong curiosity and creativity that define Phi Beta Kappa members everywhere.
Being selected as a Phi Beta Kappa member is an exceptionally high honor reserved for a very few. Throughout your life, it will attest to your diligence and achievements while at Hopkins, and announce to others some measure of the breadth and depth of your caliber and capacity.
Freedom of inquiry and expression are the hallmarks of Phi Beta Kappa, and you are not only well prepared to demonstrate these, but also ready to practice them, as evidenced by the bold investigations you have undertaken while here. When you recite the initiation pledge, you will commit to "scholarship of a high order" and "the ethics of a scholar." This places you among Phi Beta Kappa's 500,000 civic and business leaders, scientists and researchers, artists and athletes, activists and philanthropists, technology innovators, and trailblazers in all walks of life. And in these harrowing times, we need you more than ever.
I am confident that you will contribute to our world in ways we cannot yet even imagine. That's because you carry with you a profound intellectual curiosity and love of learning, the courage to ask hard questions and embrace any challenge that may come your way, and the fortitude to enter the sometimes murky unknowns that mark true scholarly inquiry.
As you move on to whatever your next chapter may be, I wish you the very best, and I cannot wait to see where life takes you.
Congratulations!
Greetings from the Alpha Chapter of Maryland
Dr. Karen Fleming
Phi Beta Kappa Chapter President
Professor of Biophysics
It's all Greek
Video from Dr. Matthew Roller
Professor of Classics
The Phi Beta Kappa Plaque
Mr. Winston Tabb
Dean of University Libraries
The libraries are pleased to participate in this tradition of acknowledging the scholarly achievements of new members of Phi Beta Kappa at Johns Hopkins. We would like the recognition of your academic achievements to be an enduring one, and so have inscribed the names of every student elected to Phi Beta Kappa this year on a plaque that we will mount on M level of MSEL – to give high visibility to the honor being bestowed here today.
We know that in both physical and virtual ways, the library has been one of the main resources you have used to create the outstanding record of academic excellence that election to Phi Beta Kappa recognizes. And so it is fitting that that we should honor this achievement with a plaque in the library.
We hope our libraries – and every other library that you use in the future – demonstrate the critical role of libraries in providing the access to information that is necessary for developing the informed citizens essential for a free society.
The Richard A. Macksey Award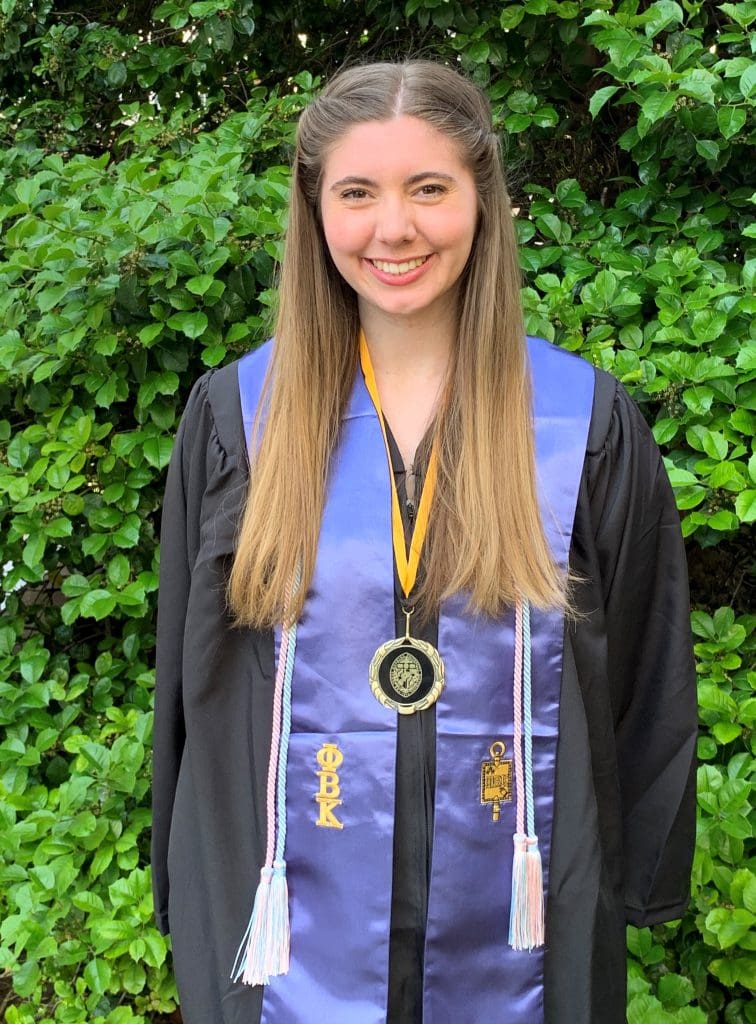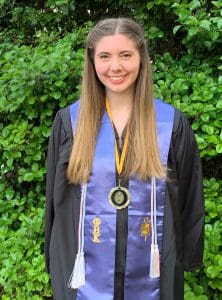 The Richard A. Macksey Award is given to one undergraduate member whose course of study best embodies the rich and varied challenges of a liberal education at Johns Hopkins. For more than 50 years, Professor Macksey set the standard for the principles of scholarship and ethics of the highest order. The Chapter so honors a graduating junior/senior who has most ardently and meaningfully pursued education at Johns Hopkins in the sense John Dewey had in mind when he deemed education as "not a preparation for life, but life itself." The final selection is made by a committee of former PBK presidents and officers, who carefully consider the academic records and nomination letters of the eligible students to reach an always difficult decision. This year the Macksey Award winner is Ellie Kathleen Taylor. Ms. Taylor graduated this past December with a double Major from the Cognitive Science and Writing Seminars Departments, having earned Departmental Honors from both programs.
Professor Katharine Noel shared these thoughts with the committee about Ms. Taylor:
"Ellie is one of the best students I've had in twenty years of teaching at Stanford, Claremont McKenna and now Hopkins… Ellie stands out as someone more interested in learning itself than in grades. As a teacher, I always feel lucky when I find a student like Ellie, someone I can count on in class not just to answer difficult questions but to take the discussion to a deeper level, raising points other students may not have considered… The class Ellie took with me in the spring semester of 2020 centered on working collaboratively with students from Baltimore public high school. Her written reflections about that work were insightful and complex. She thinks critically not only about large-scale, systemic issues but also about how her own history has colored her assumptions and expectations." Additionally outside of the Homewood campus, "Ellie's interests are broad. She volunteers at an early childhood center, leads outdoor adventure trips, works on research at JHU's SPARC lab, and is passionate about issues surrounding relationship violence as well as being an extraordinary reader and a gifted poet. Ellie's qualities of seriousness, thoughtfulness and self-reflection— balanced by her humor, warmth, and care for others— make her the ideal candidate for a Richard A. Macksey award."
Introduction to Phi Beta Kappa from the National Office
Video from National Office
PowerPoint from National Office
New Members of the Class of 2021
From the Graduating Junior and Senior classes in the School of Arts and Sciences
Ria Arora
Seung-Ho Bae
Bruno Bocchese Da Cunha Lanca
Ryan Patrick Carney
Adrienne Chen
Andrew Jaehyung Cho
Jae Hyun Choi
Jesse Belle Cole
Isabella Henderson Cook
Claire Evangeline D'Alessio
Anjali Joie D'Amiano
Asim Dhungana
Kali Jamar Dorsey
James Ori Dweck
Sabrina Tess Epstein
Alexander David Goldberg
Samantha Chlor Gould
Subin Han
Esha Hase
Jiaqi He
William Louis Hill IV
Taylor Ann Johnson
Rih Hae Jun
Marisa Ishu Kripalani
Emma Gillian KurtzFreilich
Ruo-Yah Lai
Georgia March LaMacchia
Mathis Jacques Leblanc
James Hyunbok Lee
Nile Fulong Liu
Amy Lu
Lukas Baldwin MacKinney


Manavi Mongia
James Aloysius Morrison
Akash Nadella
Charlie Huan Nguyen
Katy Haewon Oh
Ananya Pappu
Caitlin Taylor Perez-Stable
Evan Pangan Petrosky
Sabrina C Annabelle Rainsbury
Isabel Alice Ryan
Sydney Yvonne Sappenfield
Julianne Marie Schmidt
Cassandra Nicole Seifert
Timothy Robert Shade
Alexander Maxwell Sigmon
Helen Song
Brian Yau Soong
David Richard Taylor
Ellie Kathleen Taylor
Nina Louise Olga Tophoff
Yu-Young Tsai
Avraham Tsikhanovski
Rohini Verma
Serena Caitlin Yen Wang
Yiqing Wang
Laurence Emily Wechlser
Wanlam Wong
Charlotte Grace McGill Wood
Jeffery Zhang
Michelle Hong Zhang
Fengnan Zhao
Peter Guandi Zhu


From the Senior Class in the Whiting School of Engineering, Applied Mathematics and Statistics
From the School of Medicine – MA/PhD candidates
Kristen Alexandra Prufrock
From the Paul H. Nitze School of Advanced International Studies
Atinuke Anne Adigun
Kangdi Cheng
D. Reid Dobell
Chun Wai Veronica Lai
Zoe Katharina Strauss
Samuel Joseph Wilkins
From the Bloomberg School of Public Health
Pablo Martinez Amezcua
Daniel Alexis Antiporta Penaloza
Susan Christiansen
Quigley Dragotakes
Yian Lin
Arielle Buijs Mancuso
Alona Mazhnaia
Marwa Ibrahim Eldesoky Mahmoud Ramadan
Yuan Marian Tzuang
Chinenye C. Ugoji
Bingkai Wang
Zhi Yu
Alpha of Maryland Chapter
2020-2022 Officers
Dr. Karen Fleming, President
Professor of Biophysics

Dr. Kathleen Sindt, Executive Secretary
Director of Advising Technology and Systems

Pledge of Initiation
Students, please stand to recite the pledge below, which describes our arcane rights.
"I now affirm my willingness to uphold the ideals and exemplify the principles of the Society – scholarship of a high order and the ethics of a scholar."
On behalf of the Alpha of Maryland at the Johns Hopkins University chapter of Phi Beta Kappa, we congratulate you and welcome you to our chapter.