Virtual Peer Advising Sessions
Virtual Drop-In sessions with a Peer Advisor can be used for quick questions. Students will be able to connect with a Peer Advisor virtually using Zoom. Depending on the number of students looking to meet with a Peer Advisor at any one time, the session may be offered in either an individual or group Zoom format.
Peer Advisor Training and How They Can Help
Krieger School Peer Advisors are returning undergraduate students who have been competitively selected by the Arts & Sciences Office of Academic Advising. They will utilize their training and experience to help you navigate your first steps as a JHU student. Our Peer Advisors are well-trained and offer a student perspective, so they are an excellent resource to assist you with basic advising matters such as:
The "KSAS Academic Advising" Blackboard modules
Scheduling and course registration
Degree audits
Finding meaningful extracurricular activities
Understanding Hopkins course enrollment policies and deadlines, such as course Waitlists, Add/Drop and course Withdrawals
Please note that Peer Advisors cannot remove mandatory advising holds, sign University forms and petitions, or override prerequisite course requirements. They are also unable to edit a student's course elections on behalf of the student.
Accessing the Peer Advising Drop-In Sessions
Attention: There will be a special Peer Advising session held on Wednesday, July 21, 2021, from 6PM to 8PM EST. The last Summer Peer Advising session will take place on July 29, 2021. Additionally, while it is planned that the virtual sessions for peer advising will take place as scheduled, technical difficulties or severe weather, could interrupt a scheduled session from time to time. If you are unable to connect with a Peer Advisor, please consider sending an email to KSASpeeradvising@jhu.edu and someone will respond to your email as soon as possible. We recommend you provide your JHED ID when you send an email.
The Drop-In session schedule is posted in the information box found on the left-hand side of this webpage. Peer Advisors will only be available during that specified schedule. In an effort to be fair to other students wishing to speak with a Peer Advisor, each meeting in a breakout room will be limited in length to 15 minutes.
To enter the Drop-In Zoom session, complete the sign-in form.
Click on the link provided after submitting your form and the zoom host will admit you into the session.
When the advisor-on-duty is available, you will be placed into a private chat room.
Once your conversation with the advisor comes to an end, click on the "Leave Meeting" button to end your zoom session.
NB: Should the Advising Office need to cancel a regularly scheduled Drop-In session, every effort will be made to send an email to our new KSAS students' Hopkins email account informing of the cancelation.
Meet your Peer Advisors
Preferred First Name: Abena
Last Name: Ababio
Peer Advising Shift: Mondays, 6-8PM (EST)
Major: Film & Media Studies and Psychology
Class Standing following the end of the spring semester: Senior
In my free time, I love watching movies, going to the beach and swimming and going on nature walks because I absolutely love the outdoors. At Hopkins, I am a member of the Ladybirds Dance Team. In addition, I am the Business Manager and Assistant Music Director for the Notes of Ranvier community service a cappella group. I am currently the Grant Production Chair of Studio North, the student-run production company on campus and I am an active member of the Barnstormers Theater Group.
Preferred First Name: Elizabeth
Last Name: Chatpar
Peer Advising Shift: Mondays, 6-8PM (EST)
Major: Earth & Planetary Sciences, Medicine, Science & the Humanities, East Asian Studies
Class Standing following the end of the spring semester: Senior
I am a rising senior from New York. On campus, I am the treasurer of the Women's Pre-health Leadership Society, a Head PILOT Leader, and a volunteer at various organizations in Baltimore. I'm also involved in research in the Earth & Planetary Sciences department.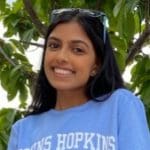 Preferred First Name: Hannah
Last Name: Hardeo
Peer Advising Shift: Thursdays, 6-8PM (EST)
Major: Molecular/Cellular Biology
Class Standing following the end of the spring semester: Sophomore
I'm from Long Island, New York, my interests include dancing and volunteering with children, and I love elephants and coffee. Along with exploring the different classes at Hopkins and navigating throughout Baltimore, I've joined a Bollywood fusion dance team and I'm also a member of the WINGS organization, the Committee of Student Elections, Women's Pre-Health Leadership Society, the Minority Association for Pre-Med Students (SNMA MAPS) and South Asian Students at Hopkins (SASH). I was also a volunteer at the COVID vaccine clinic throughout my second semester of freshman year.
Preferred First Name: Avi
Last Name: Kirpekar
Peer Advising Shift: Tuesdays, 6-8PM (EST)
Major: International Studies and Political Science (Minor in Economics)
Class Standing following the end of the spring semester: Senior
I am originally from Cleveland, Ohio, and on campus, I am involved in Zinda, a Bollywood fusion dance team, HopMUN, Hopkins' travelling and competing Model UN team, the International Studies Leadership Council, and Blue Key Admissions Society. I've done research, independent academic studies, internships, and will be studying abroad in the Fall and Spring of academic year 2021-2022. I enjoy watching sports, especially tennis, hanging out with my friends on the quads, and exploring Baltimore's many restaurants.
Preferred First Name: Francisco
Last name: Lizano
Peer Advising Shift: Tuesdays, 6-8PM (EST)
Major: Chemistry and Mathematics
Class Standing following the end of the spring semester: Junior
At Hopkins, I also serve as a PILOT Leader, Learning Den Tutor, and First-Year Mentor (FYM). I also enjoy working out or spending time outside and going on hikes!
Preferred First Name: CiCi
Last Name: Zhang
Peer Advising Shift: Thursdays, 6-8PM (EST)
Major: Neuroscience
Class Standing following the end of the spring semester: 2021 graduate
During my 4 years at Hopkins, I have served as SGA senator, Study Consultant, PILOT leader, and teaching assistant. I have also been involved in student organizations such as Lan Yun Blue Orchids, Agara Bio, Cards for Courage, and Global Medical Brigades. In my spare time, I dabble in muscle stem cell and ophthalmic epidemiology research, and enjoy traveling with friends.

Knowing your FERPA Rights
The Family Educational Rights and Privacy Act (FERPA) is a Federal law designed to protect the privacy of a student's education record and prohibits the university from disclosing information from those records without the written consent of the student.
When you meet with a Peer Advisor, they will be assuming that you have established the level of privacy in your setting that you want during your session.
Whether you are meeting in a group or an individual Zoom Peer Advising session, if there are any additional people in the virtual room or in your physical location, it will be assumed that you are comfortable with that arrangement. If that is not the case, please exit the virtual space.
For more information, please consult the FERPA website created by the Office of the University Registrar.