Virtual Peer Advising Sessions
The Virtual Peer Advising Sessions have ended for the summer. Please contact either your Academic Advisor or the KSAS OAA front desk line at 410-516-8216.
Summer '22 Peer Advising Schedule
Standard Schedule, June 2 through July 24
Mondays, 6-8 pm: Phoebe Wang & Hannah Hardeo
Tuesdays, 6-8 pm: Santi Cardinale & Hilary Gallito
Thursdays, 6-8 pm: Ethan Oluwole & Greta Cortez
There will be additional sessions on Wednesday, July 20th, and Sunday, July 24th, in anticipation of an increased number of students inquiring about class registration. These sessions will also be from 6-8 pm.
Peer Advisor Training and How They Can Help
Krieger School Peer Advisors are returning undergraduate students who have been competitively selected by the Arts & Sciences Office of Academic Advising. They will utilize their training and experience to help you navigate your first steps as a JHU student. Our Peer Advisors are well-trained and offer a student perspective, so they are an excellent resource to assist you with basic advising matters such as:
The "KSAS Academic Advising" Canvas modules
Scheduling and course registration
Degree audits
Finding meaningful extracurricular activities
Understanding Hopkins course enrollment policies and deadlines, such as course Waitlists, Add/Drop and course Withdrawals
Please note that Peer Advisors cannot remove mandatory advising holds, sign University forms and petitions, or override prerequisite course requirements. They are also unable to edit a student's course elections on behalf of the student.
Accessing the Summer 2022 Peer Advising Drop-In Sessions
Attention: Peer Advising will begin on Thursday, June 2, 2022. There will be no Drop-In hours on Monday, July 4, 2022. The last Summer Peer Advising session will take place on Sunday, July 24, 2022. Additionally, while it is planned that the virtual sessions for peer advising will take place as scheduled, technical difficulties or severe weather, could interrupt a scheduled session from time to time. If you are unable to connect with a Peer Advisor, please consider sending an email to KSASpeeradvising@jhu.edu and someone will respond to your email as soon as possible. We recommend you provide your JHED ID when you send an email.
NB: Should the Advising Office need to cancel a regularly scheduled Drop-In session, every effort will be made to send an email to our new KSAS students' Hopkins email account informing of the cancelation.
Meet your Summer 2022 Peer Advisors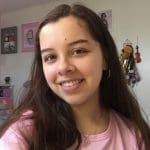 Preferred First Name: Greta
Last Name: Cortez
Peer Advising Shift: Thursdays, 6-8 pm
Major: International Studies
Class Standing following the end of the spring semester: Sophomore
I am a rising sophomore studying International Studies and Economics concentrating in East Asia. At Hopkins, I've been able to meet people from all walks of life to the extent that all my friends are from different states and countries! I've enjoyed studying Korean and the international political economy so far and my favorite part is experiencing the field through my professor's experiences. I enjoy learning languages (Korean, Japanese, Russian, Thai), and playing the cello. I am a passionate soccer and tennis fan and finally, a taco-expert. Looking forward to meeting you!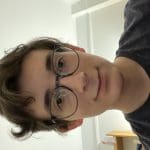 Preferred First Name: Santi
Last Name: Cardinale
Peer Advising Shift: Tuesdays, 6-8 pm
Major: Molecular and Cellular Biology
Class Standing following the end of the spring semester: Junior
I'm a rising junior here at Hopkins, and I am majoring in molecular/cellular biology with a focus on research rather than pre-med. I spent my first year at Hopkins almost completely online and have recently finished my first year completely on-campus, and in that time, I've sat through most of the Mol/Cell major requirements that have massive class sizes, and I know a lot about the different instructors that teach chem and bio for the classes that most freshman and sophomores take. I'm involved in the rockhoppers rock climbing club, and I know a bit about the process of entering Greek life because I was scouted to join a frat, though I didn't end up joining in the end. I enjoy hanging out with friends and playing video games in my free time, and I'm open to any questions you may have!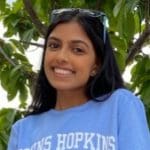 Preferred First Name: Hannah
Last Name: Hardeo
Peer Advising Shift: Mondays, 6-8 pm
Major: Molecular/Cellular Biology
Class Standing following the end of the spring semester: Junior
Hi everyone! I'm Hannah and a rising junior double majoring in Molecular/Cellular Biology and Public Health on the pre-med track. I'm from Long Island, NY and my extracurriculars include being a captain of Zinda, a Bollywood fusion team, and being a member of the Committee of Student Elections, the WINGS organization, and the Minority Association for Pre-Med Students (SNMA MAPS). I also work in the KSAS Office of Academic Advising, volunteer at the Believe in Tomorrow Children's House, and do genetics research at the med campus and research in the Hopkins Pediatric ED. In my free time, I love exploring different restaurants in Baltimore. I'm happy to answer any questions you have!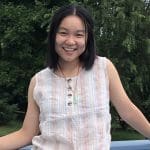 Preferred First Name: Phoebe
Last Name: Wang
Peer Advising Shift: Mondays, 6-8 pm
Major: Neuroscience
Class Standing following the end of the spring semester: Sophomore
Hello, Blue Jays! I'm Phoebe Wang and I am a rising sophomore from Maryland. I'm a Neuroscience and Psychology double major on the pre-med track, as I am really interested in the brain and in the how's/why's of what we do. Outside of the brain, the extracurriculars that I enjoy at JHU are the Chinese Student Association (CSA) and the Women's Pre-Health Leadership Society (WPHLS). CSA is a social community that organizes many fun activities, especially around the Chinese holidays. This allows me to keep in touch with my heritage and culture even when I am away from home. WPHLS is a community made up of inspiring women who all have common interests and passionate career aspirations. This group of supportive females works together to present pre-med women with as many opportunities as possible. When I am not participating in these activities, I enjoy hanging out with my friends and exploring Baltimore and the area nearby. It is definitely worth it to find some amazing places to eat! But when I am not out and about, I love sitting down and relaxing with a good book. Now that you have gotten to know me, I can't wait to get to know you!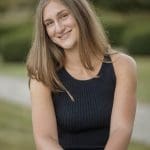 Preferred First Name: Hilary
Last Name: Gallito
Peer Advising Shift: TBD
Major: History, Classics
Class Standing following the end of the spring semester: Sophomore
My name is Hilary Gallito and I am a member of the class of 2025 studying both History and the Classics. I am also interested in the history of philosophy and do research in the Department of Art History (if you have any humanities/social sciences questions, let me know!). Outside of school, I am a varsity member of our track team and the Community Outreach Executive Chair of the Student Athlete Advisory Committee (SAAC). I am also a volunteer for Hopkins Votes, the Sexual Assault Resource Unit (SARU), and the Next One Up Program (a local nonprofit working to mentor young student-athletes in Baltimore).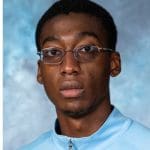 Preferred First Name: Ethan
Last Name: Oluwole
Peer Advising Shift: Thursdays, 6-8 pm
Major: Behavioral Biology, Psychology
Class Standing following the end of the spring semester: Sophomore
Hello everyone, my name is Ethan Oluwole, and I am a class of 2025 pre-med KSAS student studying Behavioral Biology and Psychology. I am also a member of JUMP (Johns Hopkins Underrepresented groups in Medicine Program) and a mentor for the BMI (Black Male Initiative) programs here at our University. I am also a member of the men's track team and a volunteer to tutor Baltimore students in middle and high school. Please feel free to reach out if you have any questions!
Knowing your FERPA Rights
The Family Educational Rights and Privacy Act (FERPA) is a Federal law designed to protect the privacy of a student's education record and prohibits the university from disclosing information from those records without the written consent of the student.
When you meet with a Peer Advisor, they will be assuming that you have established the level of privacy in your setting that you want during your session.
Whether you are meeting in a group or an individual Zoom Peer Advising session, if there are any additional people in the virtual room or in your physical location, it will be assumed that you are comfortable with that arrangement. If that is not the case, please exit the virtual space.
For more information, please consult the FERPA website created by the Office of the University Registrar.